Game 1: Baltimore 2 Washington 1
WP: Hardin (1-0, 1.13 ERA, 4Ks
LP: Barry Moore (0-1, 2.35 ERA)
SV: Eddie Watt (2)
GBRBI: Paul Blair
The Senators racked up 11 hits but only scored 1 run as they dropped the first game of the series to their cross town rivals. 9 of the hits were only singles, which helped Oriole pitchers work out of innings and eventually give the game to Baltimore. Pitcher Jim Hardin was the star for the "O's" only allowing 1 earned run in 8 innings of work to get the win.
Game 2: Washington 8 Baltimore 3
WP: Camilo Pascual (1-0, 8.10 ERA)
LP: Dave McNally (1-1, 7.82 ERA)
GBRBI: Frank Howard
Washington put up another double digit hit parade (11) but this time pounded Baltimore for 8 runs. Veteran Dave McNally was knocked out of the game after 5.2 innings of work allowing 7 of total tally. Senators Frank Howard went 3 for 4 hitting his 1st homer of the season. Ellrod Hendricks hit his 1st for Baltimore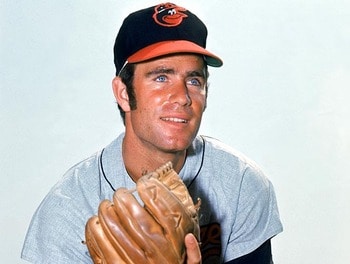 Jim Palmer
Game 3: Baltimore 3 Washington 0
WP: Jim Palmer (1-0, 0.00 ERA, 7 Ks)
LP: Joe Coleman (0-1, 2.63 ERA, 4 Ks)
GBRBI: Don Buford
Youngster Jim Palmer threw a gem, striking out 7 en route to a complete game shut out of the Washington Senators. Palmer, after allowing Washington 22 hits in the first 2 games, limited the Senators to only 6 and struck out 7 in the 3-0 win. Don Buford hit his first homer of the season for Baltimore.
Game 4: Washington 3 Baltimore 2
WP: Dick Bosman (1-0, 1.29 ERA, 3 Ks)
LP: Phoebus (0-1, 2.57 ERA, 6 Ks)
SV: Dave Baldwin (1)
GBRBI: Ed Brinkman
With all the power hitters in the Washington lineups it was SS Ed Brinkman who brought Baltimore to its knees today in the 2nd game of the double header. Brinkman, who has less power than a 3rd world country, blasted a 312 foot home run in the 2nd to give the Senators a lead they would not relinquish. Dick Bosman had a similar effort as Jim Palmer did in the 1st game of the double header only allowing 1 earned run in 7 innings of work.
The split keeps the Orioles record slightly ahead of the Senators at 4-2 and 4-3 respectively.
EARL WEAVER QUOTE OF THE DAY:
"Don't worry, the fans don't start booing until July."